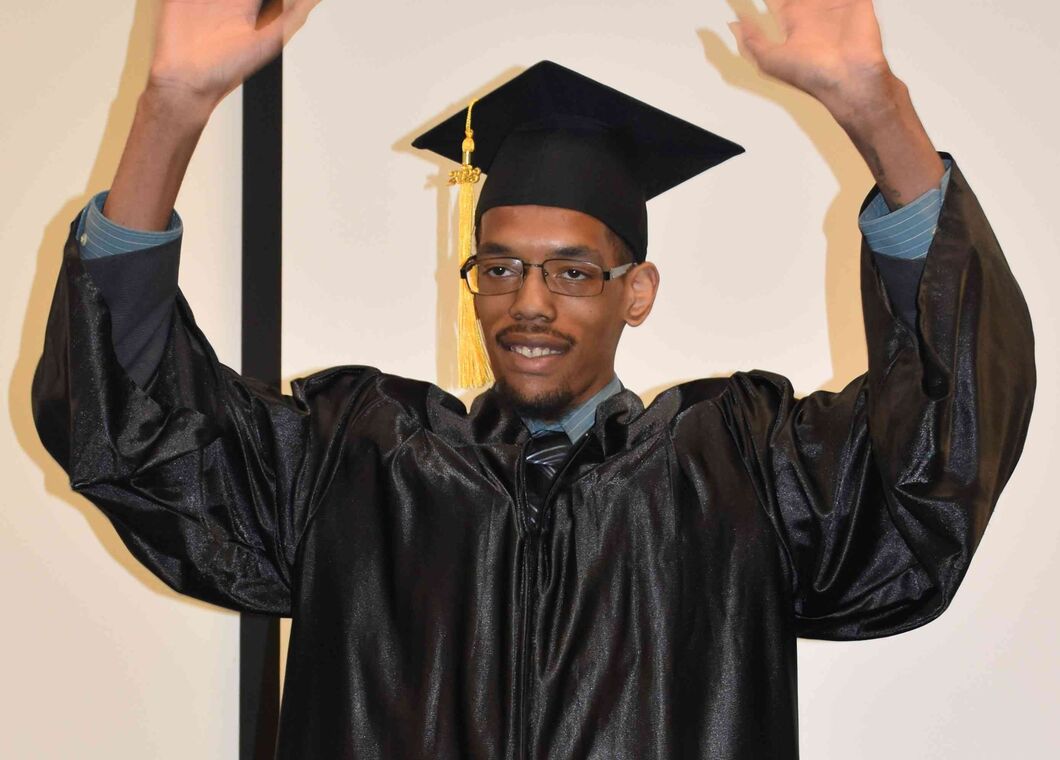 Aug 8, 2023
Diploma Connect Graduates Earn Adult Diplomas
The Diploma Connect program through Project for Pride in Living appealed to Tony Carnell for multiple reasons. This included the flexibility found within the education, the ability to receive a state adult diploma, and the option to come into a classroom setting with helpful teachers. Tony enjoyed being able to complete school in different settings when he needed to but ultimately loved coming into the Diploma Connect classroom.
"Denise and Genna helped me come out of my shell. They helped me gain confidence," Tony said.
Tony knew that his teachers really cared about him and were always there to help him. Through this program, he was given a foundation to build from through his previous education rather than having to start all over, which motivated him.
"At Diploma Connect, they just let me pick up where I left off," he said.
After graduation, Tony could not wipe the smile of his face. He felt as if a weight was lifted off his shoulders, and he was so thankful.
Until recently, Tony was one of over 286,000 adults in Minnesota without a high school diploma. This number has risen markedly since the pandemic—and especially among students of color.
PPL's Diploma Connect program is one of 51 across the state that offer an adult high school diploma program. Programs from Roseau to Duluth to St. Peter to East Grand Forks have already graduated more than 1,000 students through this program.
"Since I was little, I knew that I needed to get my high school diploma. I thought this would look better to both colleges and employers compared to a GED," Tony said.
At Diploma Connect, 45% of students have tried GED programs in the past and realized it didn't work for them. The GED class schedules were often rigid or did not fit the participant's other obligations, like childcare or work. Diploma Connect is a more individualized approach that focuses on gaps in knowledge and learning, rather than training to pass the standard GED test.
Adult diploma programs also allow students to use a combination of existing high school credits as well as program credits to count toward graduation.
"The adult diploma option has allowed our participants to show their knowledge in a competency-based environment that is simply not possible with standardized tests like the GED," said Denise Goldman, site director at PPL's Diploma Connect program. "It's a huge morale boost for adult students to come into a program and be able to apply past credits."
At PPL, 38 students are currently enrolled in the Diploma Connect program. The average age is 26, and 90% of students are people of color.
"This is the only high school option with the flexibility to combine past high school credits with GED subject tests and career readiness experiences. This allows students a more efficient approach to attaining their diploma," Goldman said. "Students are always so happy when they find out they can still get a diploma. Sometimes, they feel like they are 'settling' with the GED."
Employers have said that they value an adult high school diploma more than a GED, as it shows an adult had the resilience to return to school to finish their education. Data shows more than half of PPL's students also juggled a job while completing the Diploma Connect program. The diploma allows graduates to instantly qualify for jobs or for higher education that they couldn't access before.