Partner with PPL
Diversifying your workforce has become a business imperative.
Create a customized career training pathway, hire PPL participants, connect more deeply to the community, increase your workforce, and drive innovation.
Minnesota's population is aging, but economic opportunities continue to flourish. Workforce development must evolve and not only is it necessary to look in new places - but it's also good business! You can increase total employment and improve your outcomes.
How It Works
Connect with us to start creating your own customized training program
We work with you and your unique workforce needs to create a program of optional services starting with recruitment of new talent, through training, upskilling, and retention support with wrap-around services.
Retention
90% of program participants placed in jobs retained their employment for 12 months or more.
​
I really appreciate the inclusion and support I've received from my colleagues, fellow apprentices, and from PPL. It's exciting to work and to learn from amazing people who have unique backgrounds and valuable knowledge to share with you.
—Ashanti, Aon Apprentice
Develop Your Talent with Us
A study found that Millennials are 83 percent more engaged when working in an inclusive culture and this group will make up 75 percent of the workforce by the year 2025
7,000
Total People Served by PPL Last Year
PPL has strong roots in the community and we continute to increase our reach with every person-centered program we launch
​
This process has had the ultimate impact of building a skilled and diverse workforce. It has extended beyond, into our organization's understanding of equity in the workplace, the ability to see humans thrive in their new work, and a future that involves more programs with more success.
—David McNary, Assistant Director at Hennepin County Department of Environmental Services
Where PPL Works
Financial Services & Clerical
Education and Human Services
Medical Fields
Manufacturing & Skilled Trades
Information Technology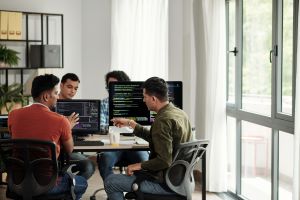 Your PPL Team
Start Your Customized Career Training With PPL
Contact Us to Get Started
This workforce product is supported in part by a grant awarded by the State of Minnesota Department of Employment and Economic Development (DEED). The product was created by the grant recipient and does not necessarily reflect the official position of DEED. DEED makes no guarantees, warranties, or assurances of any kind, express or implied, with respect to such information, including any information on linked sited and including, but not limited to, accuracy of the information or its completeness, timeliness, usefulness, adequacy, continued availability, or ownership.